Providing Seniors with a Vibrant, Missional and Purposeful Lifestyle Through Every Phase of their Golden Years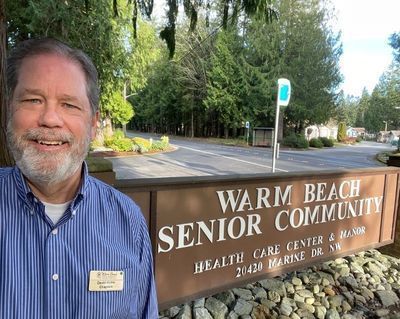 Community Chaplain, David Hicks
Hello, I'm David Hicks and I am the chaplain here at Warm Beach Senior Community. I have been serving this community since February of 2021. Prior to that I was in pastoral ministry at various Free Methodist Churches in the greater Seattle area. Immediately prior to coming to Warm Beach I was working as one of the chaplains at Harborview Medical Center in Seattle. I am a graduate of Seattle Pacific University and Fuller Theological Seminary. My wife, Janet, and I met while students at Seattle Pacific University. We have been married for 43 years and have 2 daughters and 2 granddaughters.
My role here at Warm Beach is to provide spiritual care for our residents and staff. This involves a weekly Sunday chapel service in Beachwood Lounge, visitation of residents in our Skilled Nursing Center as well as in Cedar Court, our assisted living facility. I'm also available to provide care for our independent living residents as needed for any life challenges that arise for them.
Warm Beach Senior Community is a faith-based community which means that one of our goals here is to provide opportunities for people to participate in activities that help them to grow spiritually. We offer a variety of groups to residents here to help achieve this: chapel services, Bible studies, prayer groups, mission groups. These are primarily led by residents which allows another way for people to get involved.
It is a joy to be able to interact daily with people who are continuing to try and find purpose and meaning in their lives. It's also a great joy to regularly see our residents reaching out to each other offering help, comfort, and encouragement. We believe in aging well, and Warm Beach is a great community to do just that.
David Hicks, Chaplain
360-722-7043
dhicks@warmbeach.org