Our motto: Christ-centered, People-focused.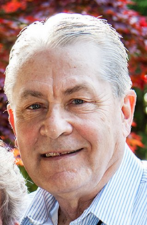 Community Chaplain, Ike Timm
Hope and enthusiasm come from a lively faith which is evident at Warm Beach Senior Community. With more than 35 years in the Free Methodist pastorate* we are so blessed to have Chaplain Ike Timm on staff to serve at the heart of a ministry which brings faith to the forefront in individual and community life.  Chaplain Ike shares,   
"The thing that has impressed me the most since coming to Warm Beach Senior Community is just that - the sense of community which pervades this place. I see it repeated on a daily basis, and it reminds me a lot of the way the earliest followers of Jesus related to one another; even before they were called Christians."  
Faith comes alive through Sunday worship at the on-campus chapel service, throughout the week with Bible studies and prayer groups, and in the numerous ways we serve each other to give and receive love in the form of prayers, hugs, smiles and support. Each person is built up and equipped to greet each day with anticipation of what God has in store.  
"Our motto, 'Christ centered - People focused,' says so much about this place:  the residents, the staff, our leadership and our supporters. It summarizes our purpose for being here for this last half-a-century. It guides us as we look to the future. It reminds us of our divine calling and of our most important task here. As we follow Christ together we all grow stronger in our faith, our witness and our love for one another." -- Chaplain Ike
With God's help we seek individually and collectively to be a Christ-centered, People-focused organization living out our core mission objectives: 
To provide provide quality housing and supportive services in a serene natural setting.
To demonstrate Christ's love by,  

preserving the dignity of residents, staff and volunteers
addressing physical, spiritual, social and emotional needs
fostering fullness of life and independence.
*While we have deep roots in the Christian Faith and the Free Methodist tradition, we want you to know that Warm Beach does not discriminate on the basis of an individual's religious or denominational preference in providing housing, programs or healthcare services.