Nearby activities and services
Whether traveling, hiking, swimming, or volunteering, Warm Beach residents are determined to remain active and engaged with life!  Overlooking Port Susan Bay, and 15 minutes drive to I-5, we are ideally located for shopping, entertainment and destination travel throughout Snohomish, Skagit and Island Counties.  Life is good at the beach! 
You will find clickable lists below providing a small sample of the many nearby shopping, medical, entertainment and travel options all within driving distance. 
---
Daily living nearby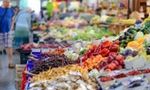 Recreation and entertainment nearby