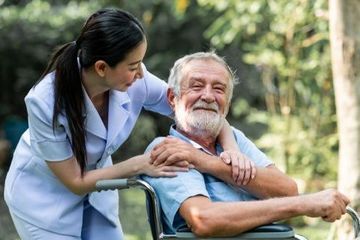 Your Annual Fund gift fuels our ability to provide low-income seniors in our Assisted Living and Healthcare centers the help they need with the activities of daily living, medical care and compassionate end-of-life care.  Each year 40% or more of residents depend on Medicaid to fund their daily care. Yet, Medicaid reimburses Warm Beach just 70% of the real cost to provide care in our Healthcare Center, and just 51% of the real cost to provide care in Assisted Living! 
While many other organizations simply do not admit residents without private pay insurance ... Because of donors like you Warm Beach can welcome them in the name of Jesus!  Annual Fund gifts also provide spiritual and social programming, replace worn equipment, purchase essential supplies, respond to emergencies like COVID-19 and needs like these.            
Your one-time or monthly recurring gift of any amount provides peace of mind, security and compassionate care for low-income seniors at Warm Beach. You may make your gift using our convenient online donation form.  You may also mail your check to: Warm Beach Senior Community Attn: Annual Fund 20420 Marine Drive Stanwood, WA 98292. 
Thank you, 
Warm Beach Senior Community Staff
(360) 652-7585
Your gift to our Annual Fund directly helps low-income seniors