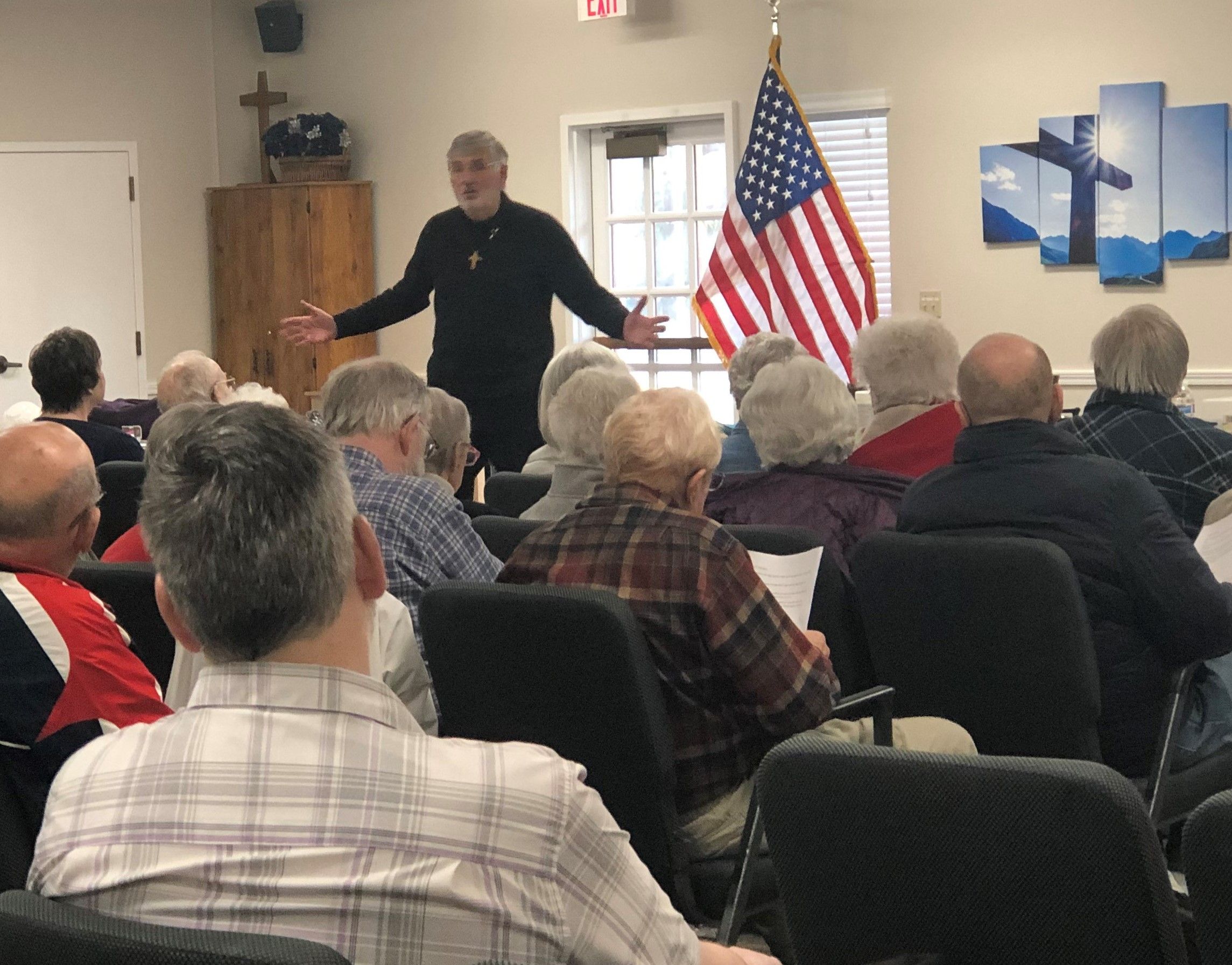 Imagine having a disaster strike with only 20 minutes to grab everything you might need to vacate your house. It's 2 a.m. with glass and water all over the floor, scrounging up what you can find while the world is falling apart around you. Would you be fully self-sufficient for a day? A week? This is the mindset we need to have when we expect the unexpected. Graham Kerr spoke to 70 residents and neighbors about how to pack and be ready in case of an emergency this past Monday, February 17, here at Warm Beach Senior Community. From emergency supplies, to clothing, to food, it is always better to be prepared ahead of time. One aspect of prepping for a disaster Graham emphasized was, we don't just prepare to be less fearful for us, but to take care of our neighbors.
In the beginning of his talk, Graham had the audience join him in a song called, "Jolly Good Company" which was composed in 1931 by Raymond Wallace. The British Army would sing this song while fighting in WWI. Here are the lyrics, "Off we go again, happy as can be. All good friends and jolly good company. Never mind the weather, never mind the rain, as long as we're together, OFF WE GO AGAIN."
To start, we all should have a ready to-go kit under our beds. This includes shoes with heavy soles, a plastic helmet as Graham demonstrated (in the event of falling debris), a flashlight with extra batteries (double check they work ahead of time, as Graham found out his was not working), the Map Your Neighborhood Sheet, which has been an added tool to connect with what skills and tools your neighbors might have. Also, a HELP sign for window display (if the window hasn't blown out). The handout Graham gave to each person who attended, included a list of supplies that he recommended and other suggestions that can be put in your kit. A few other tips that were mentioned included having at least $100 in cash (preferably smaller bills), having a small lightweight backpack that you can carry at all times- to include: hygiene products, medication (2 weeks worth was the suggestion), towel, pillow, special documents (passport, birth certificate, etc.). Next, Graham went over how to pack and prepare food. His recommendation was storing items in a plastic bin so it could withstand the elements. For cooking, using a portable butane stove with extra canisters and utensils, including a saucepan, Graham suggested double checking the size of saucepan to fit the top of the portable stove. A can of beans and a package of cooked rice (Graham chose Vegetarian Baked beans and jasmine rice) as he demonstrated how to heat the beans and mix the rice in. Another tip he mentioned was having a small bottle of your favorite sauce to add flavor. Other food items Graham mentioned (that were put in the notes), included a pack of KIND Protein bars, Metamucil chocolate wafers (make sure to drink with water!), and raisin bread in a can (don't forget the can opener!) Finally, in order to filter water properly Graham recommends Lifestraw Go water filter bottle, which turns even mucky water into drinkable water.
Graham emphasizes at the end, that the goal is to be ready to-go, so our focus is on helping others and as you prepare for the worst, you can then be a support for those who will need our love the most. Click here to access the preparedness notes Graham shared.  
This Disaster Preparedness Workshop is part of the Community Wellness Workshop that is put on monthly here at Warm Beach. Keep your eye out each month as we discuss different health and wellness topics from speakers in our community. The next one on March 16th will discuss pre-diabetes and will take place in the Beachwood Lounge at 2:00 p.m.