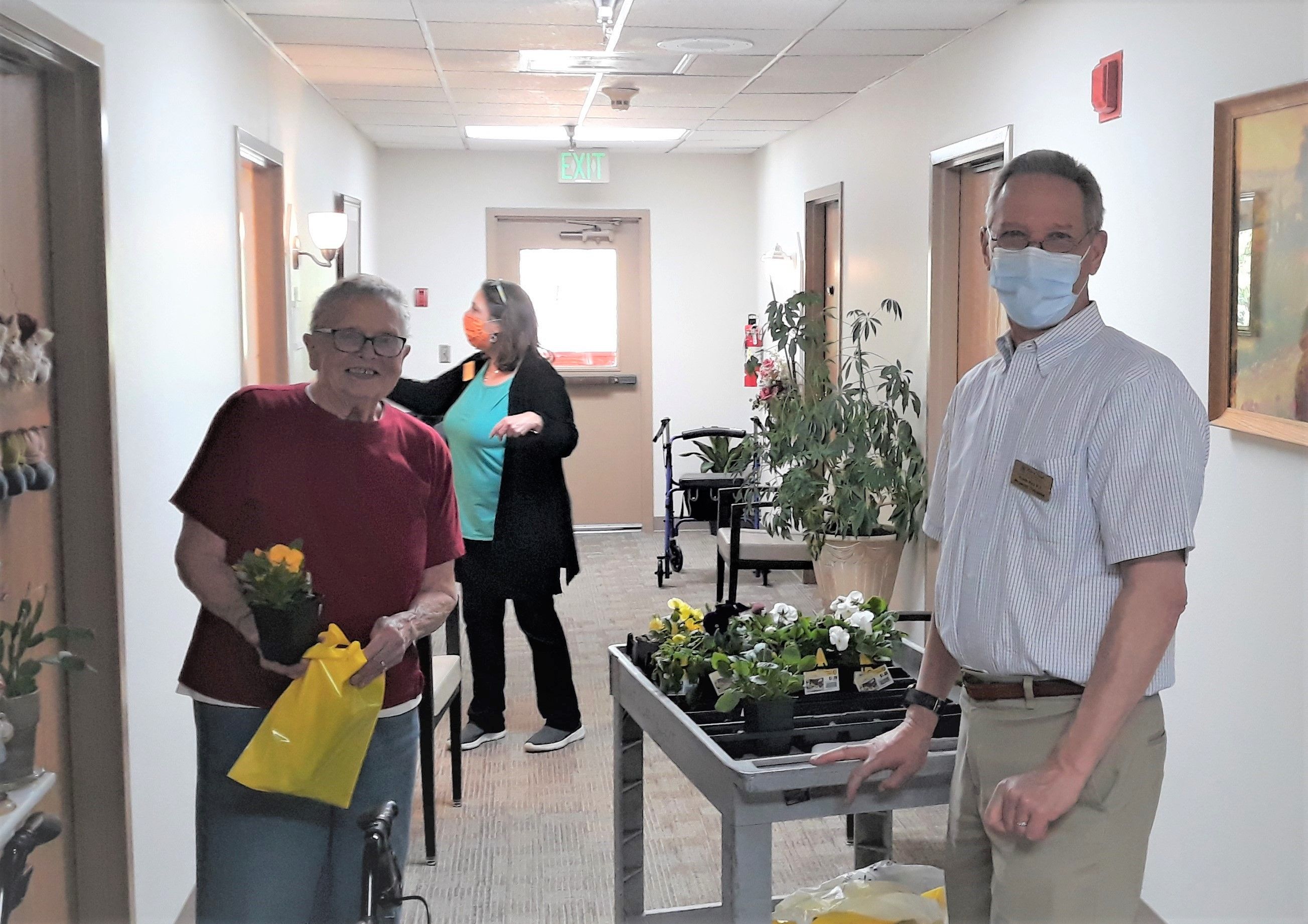 We've been flooded with cards, emails and phone calls from our residents reaching out to express their gratitude for the 'above and beyond' efforts over the past few weeks to bring them joy and encouragement during the ongoing shelter in place order. Those efforts have included door to door socially distant and safe delivery of care packages including: 
Gourmet cupcakes (provided by Stanwood Cupcake) 
Cinnamon Rolls (baked and packaged by our own Food service crew)
Easter Flowers and goodies  
Pansies to water and care for (pictured) 
In addition to the care packages our staff has also arranged for a local food truck to visit at lunch time with safe 'drive thru' social distancing in place, musicians driving through the grounds on golf carts to play guitar and sing, and later this week we'll have folks from next door at Warm Beach Camp coming through on horseback to wave and entertain our residents.  Additionally, we are working with the Twin City Idlers  to do a drive through car show in the very near future!  Local espresso stands Shipwreck Coffee and Bean N Brew provided over 100 hot drinks to send a smile to our staff.  Many of our residents have gotten into the giving spirit by providing outdoor piano and violin concerts!  To date over 600 hand sewn face masks have been donated by volunteers from around the area to bless and protect our residents and staff.  
In the face of so much 'bad news' on the TV today, and to be sure there is plenty to be in prayer about, it is also important to focus on how the Lord is providing to and through his people at Warm Beach.  Here are a few of the words of thanks expressed to us (names left off for privacy) to express their thanks for all the ways in our staff, the residents themselves, local businesses, donors and volunteers are reaching out during this time of isolation! 
"Corona [virus] cannot take away Easter Joy! Words cannot express our thanks to you. Your gentle and loving spirit(s) are an example to us all." - Beachwood Resident

"I've been hearing from mom about what an excellent job you are doing trying to meet all the 'essential' needs of the folks ... from vacuuming carpets to delivering peanut butter and so much more. You truly are displaying a servant's heart... I'm praying for you all. Thank you for ALL you do." - Family of Resident

"There are no words that can express how I feel about the concern and care that you are giving so generously with a cheery voice and a smile. We all benefit - but I want you to know that I feel at ease and comforted because you are with us and ready to help, and those lovely surprises we find on the porch! How fun that is and a joy! The flowers are pretty and the goodies yummy. They are all good choices. Thank you! God bless you now and ALWAYS with his peace, comfort and joy.  I love living here!" - Village Apartment Resident

"Just a short note to say THANK YOU for being a partner and providing such wonderful care to your residents. You are amazing, you are brave and you are strong! I appreciate all that you are doing during this very difficult time.  Blessings to you and your families!" - Warm Beach Supporter

"You are doing a wonderful job. We hope you're caring for yourselves as well.  We'll still need you when this is all over.  We love you!" - Village Estates Residents. 

"[We] want to say thank you to each and every one of you. You are doing a great job of keeping us healthy, keeping our spirits up and making our days brighter. You have all gone ABOVE AND BEYOND. The tightened security, drive by guitar and drum concerts, cinnamon rolls, cupcakes, flowers, exercise hints, masks and a most delicious social distance lunch are among the first things that come to mind.  We know you must be totally exhausted and yet you greet us with a smile and ask if there is anything you can do for us. We definitely appreciate you and all that you do for us." -  Village Apartment Residents
Genuine heartfelt community is one of our defining qualities!  Warm Beach Senior Community remains committed to helping our residents build meaningful community that will support them in times of need like this.  We are so grateful to our residents, donors, staff, volunteers and neighbors for being part of this moment together with us.