It began with a vision to serve retiring ministry workers
---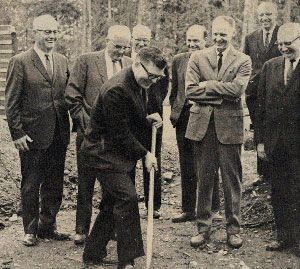 Originally named Warm Beach Manor and founded by the Pacific Northwest Conference of the Free Methodist Church - our story actually began nearly 10 years before the first residents moved in, when a group of 40 people gathered on the adjoining property to discuss the creation of our sister ministry, Warm Beach Camp.  When the first Board members were looking at sites for a family camp, they realized this beautiful forested land would be the perfect place for a retirement community, 
"At that time the focus was just the camp. Gradually the conversation moved more and more toward the establishment of a senior home. The idea was to provide affordable housing and community life to retired pastors and missionaries. It would not be exclusive, but the inclusion of these was very important." - Bob McDowell, youngest member of the Camp search committee, and at the time, a young pastor fresh out of Seattle Pacific University
As neighbors to the camp began to sell their land, property was bought up with the intention of using it for a retirement home. In July 1966, a groundbreaking ceremony was held [pictured] for the construction of a 42-unit apartment complex.  Less than a year later, on May 1, 1967, the first residents moved in. 
Warm Beach Manor would expand by leaps and bounds over the next few decades. The Health Care Center was added in 1975. The fifty-five unit Village Apartments were added between 1977 and 1979. Manor Estates manufactured home park was built and the first homes arrived in 1980. The Beachwood building, with 29 senior apartments opened in January 1981. The last expansion project came in 1996 with the opening of the Cedar Court assisted living facility.  
Our community continues to grow and expand in different ways, but our core mission to provide the best possible care for residents, regardless of income level, with an unwavering devotion to God has not changed. 
---
Our donors and volunteers sustain us
Gifts of cash, appreciated assets, or time (volunteer) are what makes this ministry possible. It is only through the tremendous generosity of thousands of donors and volunteers during our 50+ year history that we continue to fulfill our mission: 
WBSC is a ministry of the Free Methodist Church. Our Mission Statement is at the heart of everything we do. Warm Beach Senior Community provides quality housing and supportive services in a serene, natural setting. We demonstrate Christ's love by:

Preserving the dignity of residents, staff and volunteers

Addressing physical, spiritual, social and emotional needs

Fostering fullness of life and independence.
Learn more about how to support us here.