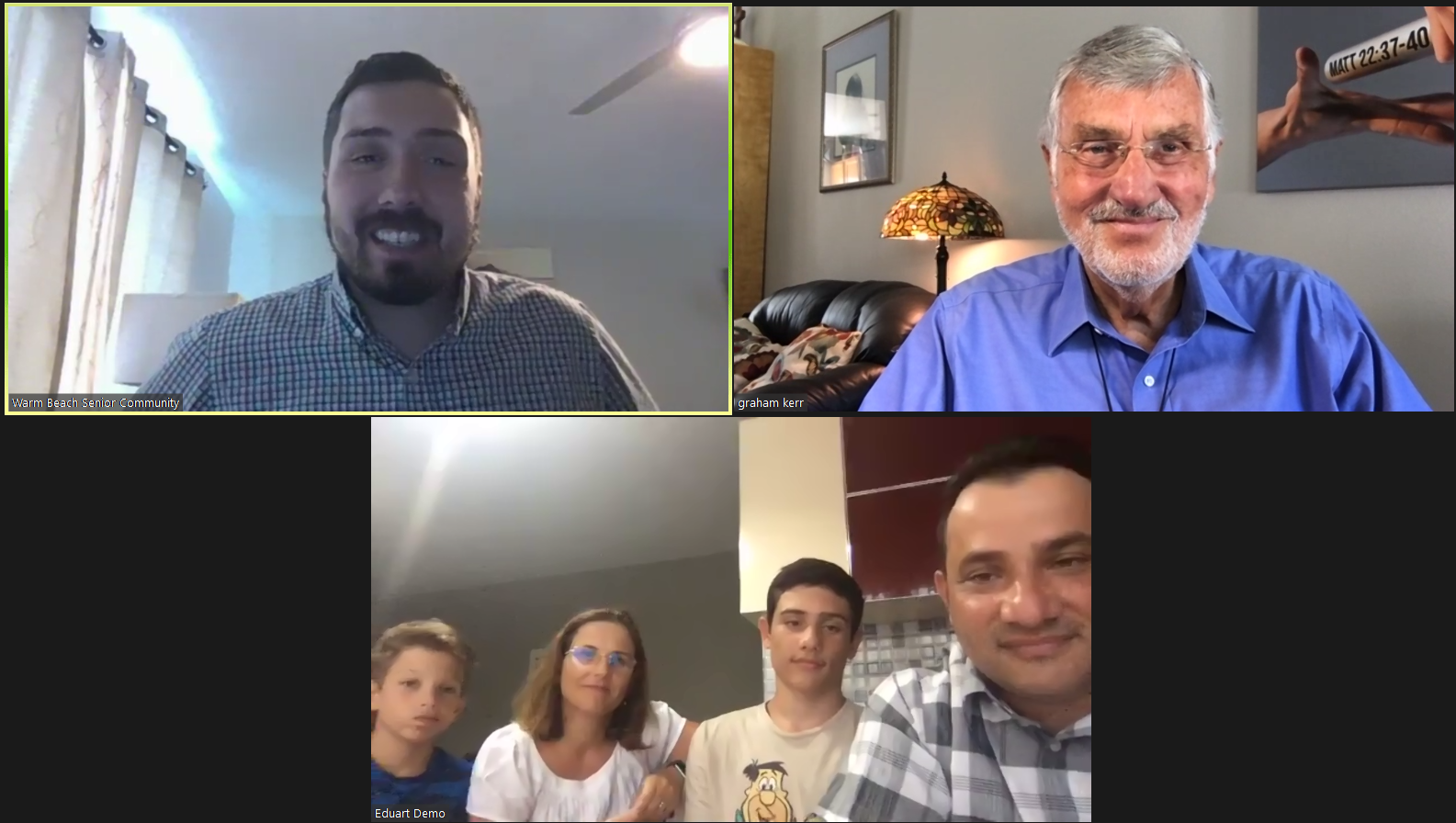 What a whirlwind of a year. As we somehow find summer winding down, we can look back and see how God has used this time to bless one another despite the restrictions and protocols that have been changing on the daily.
The biggest transition we have seen from this year has been the formation of online fellowship with one another. As we know, we can't truly replace physical fellowship, but having tools like Zoom to still see faces and connect has been critical to feel a sense of normalcy. We currently have two prayer groups, an exercise class, and a scrapbook/craft group that meets over Zoom every week. Our health room has turned into a Doctor teleconference room with residents scheduling virtual appointments from our iPad. We had our first memorial service with over 20 people being able to watch from all over the United States. We also had our first Prayer for the Nations Zoom Webinar from missionaries living in Albania. Our goal is to have monthly webinars from missionaries in various countries all over the world to see what the needs and prayers are during this, as well as the praises and what God has been doing as we continue to pray for the world. 
As we move into darker, colder months we currently have a core group of residents planning Zoom care groups that will focus on 8 people (plus One, that One being Jesus). Meeting together weekly to uplift and encourage each other while we each struggle in various way to stay afloat. They have named themselves the M&M Team (Modern Missions) and are looking forward to continue to connect the disconnected. 
I am so proud and impressed on how we have adapted to these changing times. There is nothing easy about learning a whole new program, while some of our residents are actually learning how to use computers and tablets for the first time in their life. The willingness to change takes a lot of humility and courage, I am so thankful to see the adaptability of our community to overcome these hurdles we have been facing. 
We hope and pray that the timeline to physically be close to one another is short, but while we focus on today we can adapt and conquer to what we can control. In this past weeks' Link our Director, Gary Dewhirst, wrote a letter update with words of life, which had the focus on what truly matters. He says,
"It is no accident that we have been placed here together during this unprecedented time in HIStory. I encourage you to stand firm in the undeniable truth that, as a community, WBSC was founded on His grace. In return, we are upheld and protected through whatever storm the World has to offer, consequently forged, strengthened and repurposed by His UNCHANGING, UNWAVERING, EVERLASTING plan for us all personally, and collectively as His Community."                                                                                                                                                                                                                                                          
Even though we've had to physically distance ourselves, I am joyful that technology has allowed us not to be socially distant. Praying for you all as we continue to persevere and support each other during this time. 
Our next Zoom webinar will be our Town Hall meeting that will take place on Tuesday, September 8th at 2 p.m. Check the monthly calendar for this event.