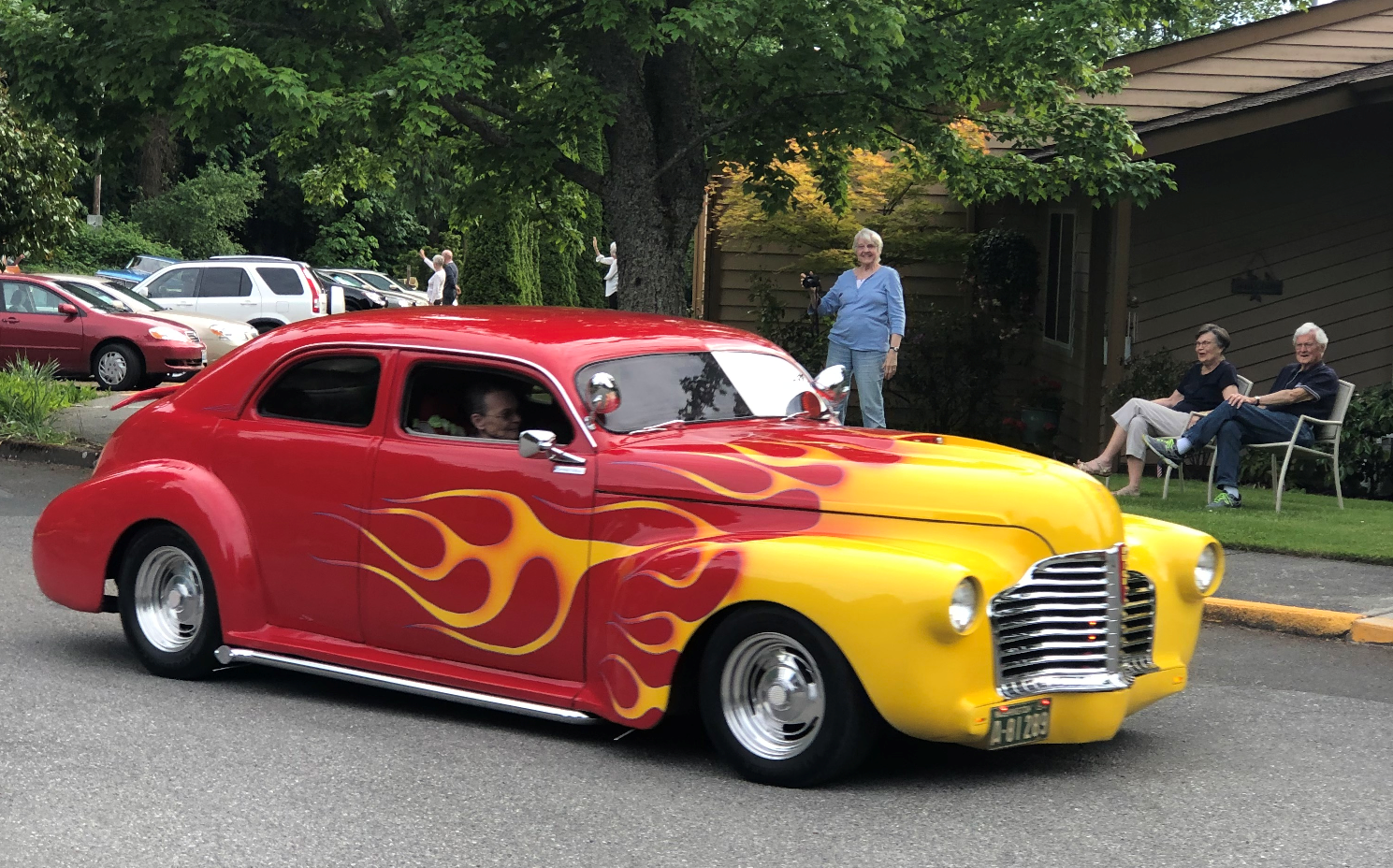 We are saying goodbye to May and hello to June! Does anyone know where this month went?? The residents and staff are enjoying the warmer temperatures and longer daylight hours.
A couple of highlights from this month have included two car clubs that drove through our campus, greeting and waving to residents who looked on from their windows and porches. As residents looked on, they could reminisce what cars they grew up with riding in and driving. These vehicles revved their engines, honked their horns and brought smiles to our community in a time when we need something to look forward to. 
The first club, The Twin City Idlers (from Stanwood), were here on Saturday, May 9th. This car club has grown from the original 6 men and their wives, to 120 members and is still growing. The first cruise-in was held in June 2002 at the local Dairy Queen with approximately 40-60 cars; that has grown to upwards of 500+ cars. If you ask the original guys who got this whole thing started, "Why has your club been such a success?" they will gladly tell you, "Because we like to have fun, we like people, we enjoy helping each other, and we love talking about the cars and old times. In a nutshell, we just love life!!"
Last night (May 28th) we had the Thursday Night Garage Association from Everett come parading through with more than 50 classic cars. They are an eclectic club of a variety of vehicles with years going back to the very early 1900s through and into the late 70s; even some very new vehicles. They have everything from, literally, Horseless Carriages through muscle cars and those with a previous life of drag racing. The club was founded on Ebey Island, Everett WA, by 5 guys in the early 70s. Oddly enough, they meet on Thursday nights.
Thank you to both the Twin City Idlers and Thursday Night Garage Association for visiting us. We look forward to having them again!
We are always looking for new and creative ideas during this time to bring smiles to Warm Beach. If you have any ideas or want to volunteer your time visit Here or e-mail Siri, sowen@warmbeach.org.