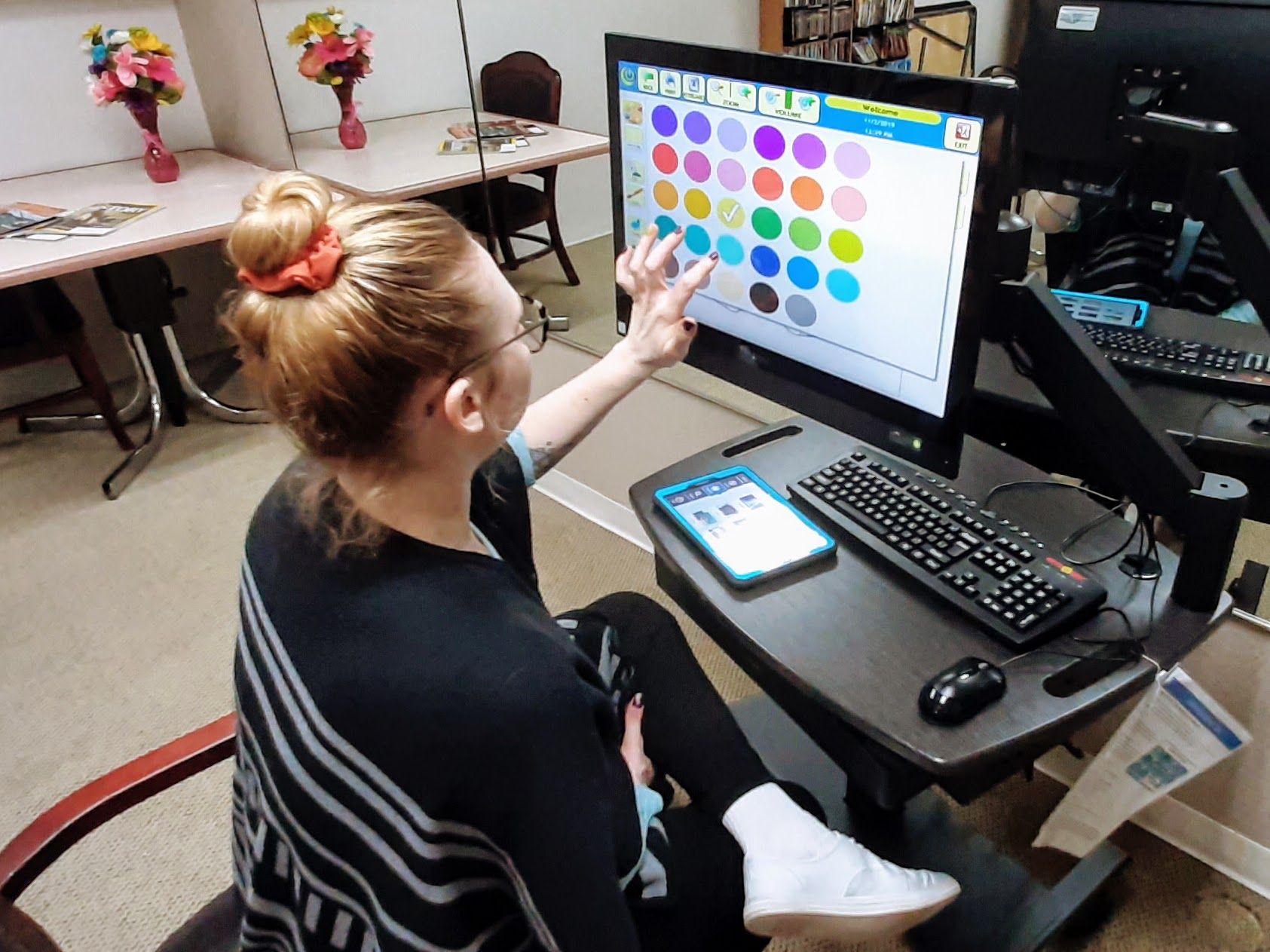 "Some residents who have never used computers before are finding much joy and fulfillment out of these systems. It really is Never 2 Late."

-Hilaryann Erlandson, Healthcare Center Activity Coordinator 
Warm Beach Senior Community recently received a grant providing new interactive computer technology to enrich the lives of residents. Provided through the organization LeadingAge Washington, the program is called iN2L (it's Never too Late).  LeadingAge Washington is an statewide professional association serving mission-driven organizations like Warm Beach who provide skilled nursing and quality housing for seniors. 
The grant through LeadingAge provided two large mobile desktop computers and two tablets. Together these give access to thousands of different programs including entertainment, education and various health-related therapies. Based on demonstrated studies, the goal of the iN2L program is to make technology available to residents with conditions such as dementia, depression and anxiety to reduce their use of medications through positive social interaction and cognitive therapies.  IN2L can also be employed in group activities as well as be integrated into the personal care plans of all residents. The ultimate goal is to improve quality of life.
Each resident can build a personal page customized with their favorite apps; families and friends can share pictures and videos, and even have online conversations through programs like Skype. It's all about connecting residents to the outside world.  Healthcare Center resident Dave* has enjoyed the educational games the system provides:
"I like the trivia games because they keep my brain active and working. I love learning new things and being tested on what I already know."

- WBSC resident Dave*
IN2L's TV screens can assist residents facing health or mobility challenges to go places where they cannot physically go themselves. One resident uses the program to enhance her spiritual life:
"When I can't attend Mass because I'm not feeling well enough to leave the bed, it's a blessing to be able to have the Mass brought to me on this computer [using the iN2L connected Tablet]."

- WBSC resident Amanda*
The staff is getting a lot out of the technology as well, gaining easier access to planning materials. As one WBSC staff member explains,
"It enriches our activities program and brings people together in ways I hadn't even thought of before. With so many resources at your fingertips, you never run out of fresh ideas to add to the schedule.  And there is more material added to the applications every two months!"
Hilaryann Erlandson, Activities Coordinator for the Healthcare Center, is already encouraged by the results she is seeing and at the potential for growth in the program,
"We are still in the process of helping families on board to utilize the Focus tablets for communication.  As far as the Engage systems and the applications, we utilize them every single day! It has really revolutionized the way we do our Activities here. Before we had the iN2L systems, I spent a lot of time researching material online for discussions and activities that I thought the residents would like.  IN2L includes many activity ideas geared for seniors, as well as games, creative arts and sensory apps, brain teasers, trivia, history, pictures, videos, classic movies and more that have engaged our residents in ways I couldn't have imagined.  Some residents who have never used computers before are finding much joy and fulfillment out of these systems. It really is Never 2 Late."
Would you like to find a way to make a difference in the life of someone in need?  Warm Beach is looking for volunteers interested in making a difference in the lives of our Healthcare Center and assisted living residents with a gift of their time. Whether once a year, a few hours a month or a regular weekly involvement -- there are a flexible options where you can make a difference.  To learn more click here. 
 *Names changed for purposes of anonymity.